Hands on with the GoPro Hero 4 Session
It seems like everyone has a
GoPro
now (even
some people
that maybe shouldn't). Among motorcyclists there are a lot of
fun moments
captured with them.
I finally gave in to temptation and bought a camera to mount on my helmet. I bought the "latest and greatest", the Go Pro Hero 4 Session. For purchases of this sort I'm typically quite methodical: reading reviews, comparing models, etc. I regret not doing that in this case, because my experience with the Hero 4 Session was ultimately a disappointment.
My expectations might have been unfairly high; with the ubiquitous HD GoPro videos on YouTube / Vimeo I assumed this model (which supports 1440p30 video capture) would produce great video. However, no matter how I tweaked the camera's settings (which are limited), the recorded video even in the best lighting conditions was somewhat mediocre. In low lighting it was borderline unusable, even with the camera's Auto-Low-Light feature.
Here are some frames from the video file recorded directly to the microSD card (note: these have been saved as high-quality JPEGs instead of the ~2.1MB PNGs, but I couldn't detect any differences between these and the original video frames):
Aside from the video quality, there were other issues:
The GoPro desktop software for importing videos is clunky. It installs a hidden auto-importer that runs continually and a useless system status bar item without asking
Accessing camera settings can only be done through the GoPro mobile app. Connecting your iPhone to the GoPro requires turning on the GoPro's built-in WiFi (disconnecting your iPhone from its normal WiFi, then connecting to the camera), and pairing via bluetooth. (I still don't know why both of those are required.)
Documentation is lacking. The device seems simple and you'd expect intuitive operation, but there are a number of undocumented (and non-obvious) features. For example, I could only figure out how to do a hard factory reset or shutdown (when the camera froze) by searching 3rd party websites, there was no info in the online manual on GoPro's website.
Ok. So, having gotten my gripes out of the way, I should point out a few of the Hero 4 Session's better features: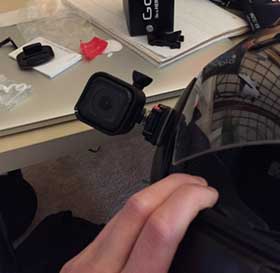 Incredibly compact, and light
Mounting it to the helmet was easy and fast
The various mounts + the camera's ability to be rotated / flipped provide a ton of flexibility for creative recording options
Waterproof, and seemed very well-constructed / durable
Basic recording is easy, one-button on/off controls
For a lot of people, particularly those doing active/outdoor recording, this camera is probably a great choice. But if you're looking for high-quality video you may want to consider another camera (perhaps the Hero 4 Silver). For me, I'm looking for a new option - the Hero 4 Session didn't live up to what I'd hoped.