A Retro 2D Stealth Adventure!
You are a member of a secretive clan of rogue assassins, an agent of stealth and shadow. You will go on critical missions using only your wits and your ninja-like abilities to disable your foes and subvert any group which poses a threat to the peace of the kingdom.
How you achieve victory will be up to you!
Will you use the steel of your sword to crudely slice through and backstab all enemies who stand in your way? Or will you use poisoned darts, deception, and your mystical powers to avoid detection entirely?
Sneak through each map to reach your goals (whether it be stealing war documents, freeing prisoners, or assassinating political enemies) and find secret entryways and solutions to challenges - or barge right in through the front gate and destroy everyone you see.
The choice is yours!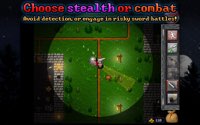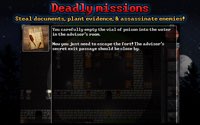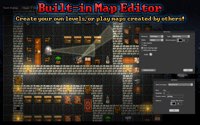 Features:
Unique stealth mechanics: observe the sound waves from your footsteps, and how they deflect from nearby obstacles.
Be a rogue: use distraction, flash powder, and poisoned darts to confuse and disable your enemies.
Sneak, steal, and deceive: pick locks, steal treasure, and buy supplies.
Multiple solutions: each mission poses puzzle-like challenges, with multiple possible solutions. You choose how to make it through each mission!
Solve puzzles and mysteries: uncover subversive political plots and save the kingdom.
Built-in map editor (macOS only): use the built-in map editor to create your own levels, or play levels created by others!
The fate of the kingdom now lies in your hands.
You must not fail, rogue. Good luck!
Available for Mac & iPad
Questions?
Email:
rogueAssassinGame@gmail.com
Need help with the editor?
Tutorials and example maps are coming soon.
In the meantime, email with any questions!
More games:
Rogue Assassin © 2018 by Matt Reagan. Homepage